The search is on to find the Voice of the Valley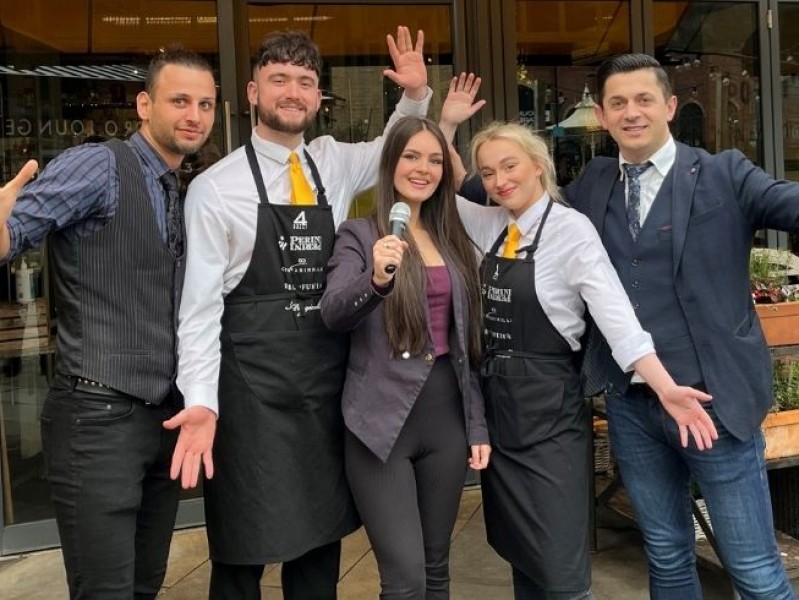 « Back to news
The search is on to find the Voice of the Valley
9 March 2022
Have you got the V Factor? The team at a popular north Sheffield Italian restaurant are staging a fantastic new singing competition in the spring to showcase the local talent in their own community.
As well as being an award-winning restaurant Ponti's Italian Kitchen in Fox Valley, Stocksbridge, is the venue for regular musical performances. Now the restaurant owners have decided to shine the spotlight on the local singing talent which is on their own doorstep.
Called Voice of the Valley the competition is aimed at promoting local talent and providing a platform for solo performers in the area. Stocksbridge has a rich music pedigree with bands including Arctic Monkeys and Bring me the Horizon having close links with the town.
The restaurant is now working with the local drama group Steel Valley Beacon Arts on the competition to which opens with an "Open Mic Style Night" on Thursday May 5th.
The judging panel has been made up of an eclectic group of music lovers and music professionals with the local entertainer and member of Steel Valley Beacon Arts Jeremy Cutts hosting the event.
Restaurant owner Stefano Ispani will also be among the judges who will select the best singers to go through to a second round which will be held on Thursday May 12th. Finalists will then be chosen to entertain diners in a special red-carpet gala evening to crown the Voice of the Valley winner, which is planned for Friday May 20th.
The overall winner will be crowned the Voice of the Valley and presented with a trophy as well as a £500 cash prize – it is hoped that the competition can become an annual event.
Stefano said that the idea had come from the popular musical nights which are held at the restaurant – many featuring local performers, as well his own passion for great music and good food.
The Ponti's culinary roots are in Emilio Romagna in Italy, which is also a valley and well known for its fantastic musical heritage as home to famous Italian names such as the opera singer Luciano Pavarotti and mezzo-soprano Giulietta Simionato.
Stefano said: "We love being part of the community in north Sheffield and know there is a really thriving performing arts scene here and some fabulous singers. We have worked with so many local groups and choirs who really have some very talented members.
"We wanted to celebrate and recognise that talent and give our great local performers a platform to show what they can do. We hope the community will really get involved in this event and come and support their favourite performer."
Mandy Aitken, from Steel Valley Beacon Arts, said: "This is a fantastic project to be involved in alongside some great people and local businesses.
"We don't plan to be quite as brutal as some of the TV talent show judges, but we are expecting the standard to be pretty high! We know the talent is here in Stocksbridge and we are looking forward to hearing from plenty of local voices!"
To register for the Open Mic Night on May 5th contact email manyja@hotmail.co.uk
And contact amyrtja@pontis.co.uk to reserve your place for the red-carpet Voice of the Valley's final which takes place on Friday May 20th.
For further information, contact:-
Public Relations Department, Dransfield Properties Ltd
Tel: 01226 360644
Email: admin@dransfield.co.uk