Pupils create work of art to celebrate Yorkshire's biggest bike race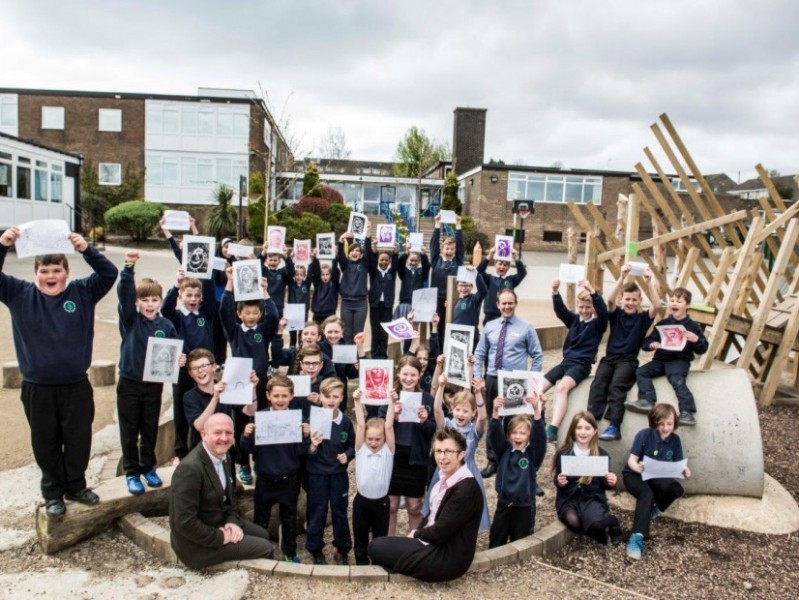 « Back to news
Pupils create work of art to celebrate Yorkshire's biggest bike race
6 April 2017
Pupils from Stocksbridge Junior School are working with South Yorkshire based artists Sara Beavan-Widdowson and Robin Widdowson to create a striking piece of art to celebrate the Tour de Yorkshire.
The three day race will finish at Fox Valley on the afternoon of Sunday April 30th – less than a mile away from Stocksbridge Junior School.
The school has a week of events planned in the run up to the race and the 388 students have been busy working with artists and sculptors Sara and Robin to create a unique piece of art that celebrates the heritage of the local area and this prestigious cycling event.
Pupils have been drawing and printing self-portraits and sketching places and buildings that they feel represent the town's heritage. They did this in their classes and a selection of students from each class was chosen to work with Sara on the finer detail for the circular artwork.
The final piece will reflect images from the creative work done by the children and displayed at Fox Valley ahead of the race for all to see.
Robin said: "We have been running workshops with the pupils and getting them thinking about what they wanted to see in the final piece. It's been a great project to be involved with and seems to have really grabbed the children's' imagination ahead of the Tour de Yorkshire."
Teacher David Wright said: "We have loved been involved with the project – it has been a great way to get involved with the Tour de Yorkshire and also to think about what the area means to the pupils and what is important to them about Stocksbridge – we can't wait to see the finished piece at Fox Valley."
The Tour de Yorkshire starts on Friday 28th April in Bridlington and the final day will see the cyclists set off from Bradford and cover 194 km before arriving in Fox Valley at around 5pm.
The north Sheffield shopping centre is owned and managed by the South Yorkshire company Dransfield Properties Ltd.
Head of Communications at the company, Amanda Holmes said: "We are really in the build up to the event now and there is so much happening across the area now as we prepare for the big race coming to Stocksbridge.
"It's great to see the work which is going in to this wonderful piece of art to celebrate the event and we're delighted it will be displayed at Fox Valley."
For more information about Fox Valley visit www.foxvalleysheffield.co.uk and to find out more about the Tour de Yorkshire visit www.letouryorkshire.com

For further information, contact:-
Public Relations Department, Dransfield Properties Ltd
Tel: 01226 360644
Email: pr@dransfield.co.uk