New Costa Coffee shop to open at Fox Valley department store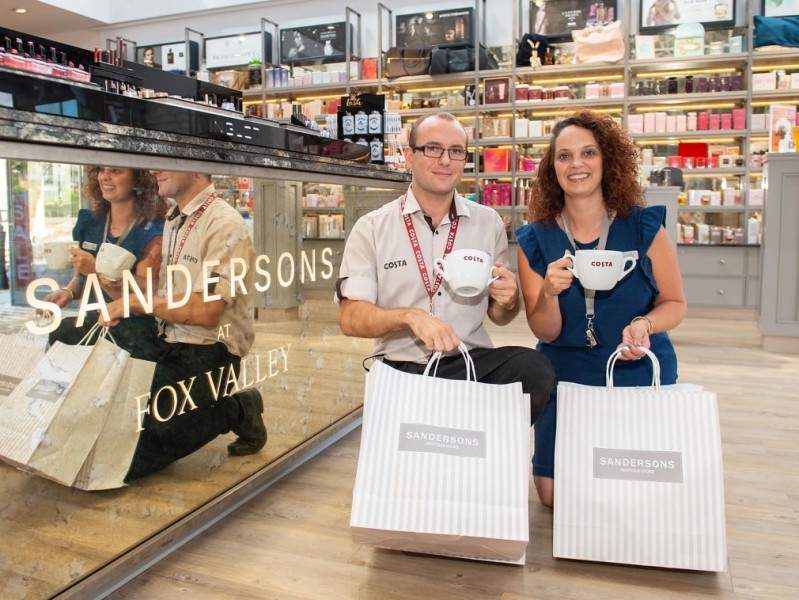 « Back to news
New Costa Coffee shop to open at Fox Valley department store
16 July 2018
Costa Coffee, the Nation's favourite coffee shop brand*, is opening a brand new café inside Sandersons Department Store at Fox Valley in north Sheffield.
The company is taking the 994 sq. ft. first floor café area previously occupied by Blakes Tea Room at the department store, which is currently being transformed into a new format Costa Coffee.
The new Costa Coffee shop has been designed to create a warm and welcoming environment, offering a great selection of delicious coffee and cold beverages, savoury food and sweet treats, as well as a space for the local community to enjoy.
The move will create five new jobs and the Costa Coffee shop will open in August – the new coffee shop has been designed to complement the attractive surroundings of the store.
The coffee shop will run alongside the company's existing café which can be found next to Home Bargains and Card Factory at Fox Valley and has been trading well since it opened in June 2016.
Simon Davies, New Store Openings Manager from Costa Coffee, said: "We are delighted to be bringing a second Costa Coffee to Fox Valley in the beautiful setting of Sandersons Department store, creating new jobs and another community hub for the area.
"The store will run alongside our existing coffee shop at the centre and we look forward to completing the fit out work and opening later in the summer."
Costa Coffee is a British multinational coffeehouse company headquartered in Dunstable, Bedfordshire, and a wholly owned subsidiary of Whitbread.
Sandersons Department Store opened in September 2016 and is home to a fantastic range of brands across all departments. Other concessions at the 17,000 sq. ft. store include Hobbs, Phase 8 and Benefit – the store also has an in house independent florist called Fleur de Lys and Polished Nails and Beauty as well as a gallery showcasing the work of Sheffield artists Pete McKee, called World of McKee.
Owner and Managing Director at Sandersons Department Store, Deborah Holmes, said: "We are delighted to be announcing that Costa Coffee is opening a new coffee shop here at Sandersons.
"Costa is a great British brand which has the same high standards of customer service as our team at Sandersons. As we are fast approaching the celebrations for our second birthday in September it is great news that we have attracted another great brand to our store.
"Sandersons will be open as usual while the work is underway and we're all looking forward to seeing the new look coffee shop and giving the team a big Sandersons welcome, we're confident it is going to be a great addition to the store."
The company behind Blakes is focussing on its businesses in the north east. Deborah added: "We'd like to thank the team at Blakes for their hard work and effort over the last 20 months and wish them every success as they re-focus their attention on their other businesses."
The move is one of a number of exciting changes at the award winning north Sheffield shopping centre.
Construction work is currently under way on improvements to the piazza area at Fox Valley with the creation of a new ice cream parlour and the street food burger restaurant Kerbedge is opening later this month in the unit next to Ponti's Italian Kitchen.
To find out more about Sandersons Department Store visit www.sandersonsdeptstore.co.uk and to keep up to day with news and events at Fox Valley go to www.foxvalleysheffield.co.uk
photo shows: Sanderson Store Manager Lisa Fox and Costa Manager Stephen Beckett.
- ENDS -
Notes to Editors:
For further information:
Costa Coffee – Isabella Highett, UK & Ireland Press Officer
Isabella.highett@whitbread.com | 07824081791
About Costa Coffee
Founded in London by Italian brothers Sergio and Bruno Costa in 1971, Costa is now part of Whitbread PLC, which this year celebrates its 275th Anniversary as a great British business.
With over 2,200 coffee shops in the UK and more than 1,200 in 29 international markets we are the fastest growing coffee shop business in the UK and are proud to be the UK's favourite coffee shop, *having been awarded "Best Branded Coffee Shop Chain in the UK and Ireland" by Allegra Strategies for eight years running (2010, 2011, 2012, 2013, 2014, 2015, 2016 & 2017).
Looking after coffee growers is extremely important to us, which is why we established The Costa Foundation, a registered charity with the aim to relieve poverty, advance education and the health and environment of coffee-growing communities around the world. So far, The Costa Foundation has funded the building of 75 schools and improved the social and economic welfare of coffee-growing communities.
For further information, contact:-
Public Relations Department, Dransfield Properties Ltd
Tel: 01226 360644
Email: pr@dransfield.co.uk