National Fitness Week @ Snap Fitness
« Back to events
National Fitness Week @ Snap Fitness
20 Sep - 24 Sep 2021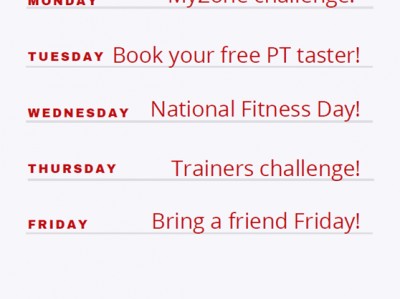 Physical activity allows you to keep growing and challenging yourself in fun ways!
Join Snap Fitness for their week of challenges to celebrate National Fitness Day on Wednesday 22nd September, all open to both members & non members:
Monday
MyZone Challenge - train with your MyZone belt (or book a session and use one of the guest MyZone belts) and ask a member of staff to record your MEPs. At the end of the day, the person with the most MEPs will receive a FREE months membership!
Tuesday
FREE PT taster - FREE 30 minute PT taster sessions available throughout the day, just call 0114 288 2821 to book in advance
Wednesday
Charity Day - Club manager Ben will be cycling for 8 hours to raise money for charity - please donate generously!
Thursday
Trainers Challenge - Take on one of 5 trainer challenges (or try all 5!) and the winner of each challenge will receive a FREE months membership!
Friday
Bring a Friend Day - Bring a friend along with you to train FREE of charge during staffed hours